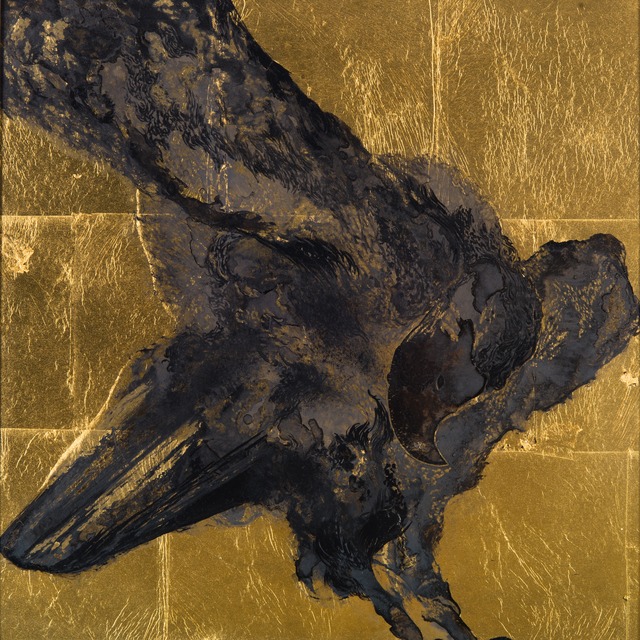 eagle
¥60,000 tax included
the last one
制作年:2016年 素材:アクリル板に金箔、墨
作品サイズ:30.0(H)x 30.0(W) x0.3(D)cm

(説明)日本美術において描かれてきた動物画をモチーフに制作しました。

作品について:
・アクリル板に金箔を貼り、表面に墨で描いた作品です。
・販売金額は、額装、送料(国内のみ)が含まれております。

配送について:
・ご注文後約3〜5日で発送いたします。
・倉庫の影響で発送が前後する婆がございます。
・額装された作品を緩衝材で包み、外箱で梱包したものをさらに緩衝材で包んで発送いたします。
・国内配送の場合:ヤマト宅急便にて配送いたします。
・国外配送の場合:当オンラインショップで指定する配送サービスで配送いたします(送料として別途5,000円がかかります)。

使用上の注意について:
・和紙の劣化を防ぐため、直射日光の当たる場所への設置は避けてください。
・墨が滲む可能性がございますので、水に濡れないようご注意ください。
・壁面に飾る際は、落下しないようしっかりと固定したフックやピンで掛けてください。

——————————————————————

Year of production: 2016
Material: gold leaf, ink on acrylic board
Size: 30.0 (H) x 30.0 (W) x0.3 (D) cm

(Description) The motif is the animal painting that has been drawn in Japanese art.

About the work:
・A work in which gold leaf is attached to an acrylic plate and ink is drawn on the surface.
・Sales amount includes framed and shipping (domestic only).

Regarding delivery:
・It will be shipped in about 3-5 days after placing your order.
・There is an old woman who will be shipped due to the warehouse.
・The framed work will be wrapped in cushioning material, and the one packed in the outer box will be wrapped in cushioning material and shipped.
・Domestic delivery: Delivery will be by Yamato Takkyubin.
・For overseas delivery: Delivery will be made using the delivery service specified by this online shop (shipping fee of 5,000 yen will be charged separately).

Notes on usage:
・To prevent the washi from degrading, do not install it in a place exposed to direct sunlight.
・Be careful not to get the ink wet, as the ink may bleed.
・When decorating the wall, hang it with a hook or pin that is firmly fixed so that it will not fall.
Add to Like via app
Shipping method / fee

Payment method